SERVICES such as Learning Difficulties, ADHD, ADD,
Giftedness, IQ testing, psychometric assessments
Psych Support Assessment Services (PSAS) offers a complete range of services including:
Comprehensive Psychometric assessments for all ages (2 years of age to adulthood)
IQ and achievement testing for all ages (2 years of age to adulthood)
Specific cognitive and educational assessments for adults
School Readiness assessments
Individual counselling and therapy
Appointments in consulting rooms, telephone consultations, skype consultations and home (in some locations only as appropriate)
Family therapy
School consultations as appropriate
Workshops/Seminars on a range of topics in schools, preschools and other organisations
---
Andrew uses an eclectic approach to counselling. Some techniques used by Andrew include Cognitive Behaviour Therapy (CBT), Acceptance and Commitment Therapy (ACT) and Narrative Therapy.
---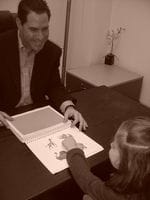 Some common reasons for assessment include:
Testing for Attention Deficit Disorder (ADD) and Attention Deficit Hyperactivity Disorder (ADHD)
Testing for Specific Learning Difficulties
Testing for Intellectual Difficulties
Testing for Giftedness
Testing for School Readiness
Testing for Gifted Learning Difficulties profiles
Testing for a specific reading difficulty (also known as dyslexia)
Testing for Special Provisions
Screening assessments for Asperger's Disorder / Autism Spectrum Disorders (ASD)
Basic Vocational and Personality assessments
Specific Behaviour Management strategies
Testing for Oppositional Defiant Disorder (ODD)
Parenting strategies
Assessment and treatment of specific twin issues or 'twibling rivalry' concerns
Anxiety and phobia issues
Anger, frustration and stress management
Self-esteem concerns
Bullying
Attention and self regulation problems
Family break down
Study skills, time management and organisational strategies
---
A full Educational Assessment or Psychometric Assessment usually includes:
IQ/Cognitive Test (investigating your child's cognitive potential and strengths and weaknesses). Some examples of the assessment tools used include:

Wechsler Intelligence Scale for Children (WISC-V - brand new updated IQ assessment and WISC-IV)
Wechsler Preschool and Primary Scale of Intelligence (WPPSI-III & WPPSI-IV)
Wechsler Adult Intelligence Scales (WAIS-III & IV); Stanford Binet Intelligence Scale (SB-IV & V)
Achievement Testing (tests of reading, phonological awareness, spelling and arithmetic). Some examples of tests used include:

Woodcock Reading Mastery Test - 3rd Edition
Neale Analysis of Reading Ability
WIAT-II & WIAT-III
South Australian Spelling Test
Wide Range Achievement test (WRAT3 & 4)
Rating Questionnaires and Behaviour rating scales - investigating issues such as concentration and inattention (ADD/ADHD); motor hyperactivity/impulsiveness; reading problems; cognitive deficits/linguistic comprehension, behaviour, anxiety, social skills, linguistic comprehension; and social skills and competence.
Interveiw with parent(s) / caregivers (discussing your child's and family's background and history, previous assessments, etc)
Follow-up consultation via phone or skype (limited to 15 minutes)
The full educational and cognitive assessments (commonly referred to as a psychometric assessment) includes an interview with parent(s)/guardians as well as a brief follow-up via a phone consultation to discuss the results. A follow-up appointment in the rooms can also be arranged at the hourly rate to discuss the results and implications arising from the report. Factors such as your child's attention, learning style, motivation, focus, impulsivity, social skills etc are observed during the assessment and add a lot of valuable information.
---
These rating questionnaires are often completed by parents/guardians and/or teachers.
Assessments can be administered from the age of 2 years old up to adulthood.
SCHOOL VISITS
New Service offered - School Observations
Psych Support Assessment Services will be offering a new service from Term 4 2017 where warranted, as part of its student assessment process.
Andrew Greenfield, our Principal Psychologist, believes that, in some cases, observing a student in a number of classes and/or lunch break would give a more complete and detailed picture of a student's attention issues, behaviour, social issues and learning needs, especially when such observations include discussions with teachers to complement formal testing.
One of our experienced staff members has now been assigned to conduct school observations as required, based on Andrew's assessment, as to the need for such observations to supplement his cognitive and psychometric assessments in specific cases.
If you would like to discuss this matter further, please call the office on
(02) 8542 1524 or email andrew@child-psychologist.com.au.
---